SayByeBugs Bed Bug Extermination Spray New & Improved Formula
$ 24.95
$ 36.95
/unit
32% OFF SALE
Stronger Formula Eradicates Bed Bugs Even Faster than Ever!
Developed Exclusively for Easy and Safe Home Usage.
Traceless – Leaves Neither Scent, Nor Stain behind. Just Dead Bed Bugs.
Ready to ship | Free shipping above $130 ($250 for AK and HI)
Packages shipped in discreet packaging.
100% Secure Checkout
90 Day moneyback guarantee.
Extermination costs totaling thousands of dollars.
Loss of clothes, bedding, and mattress.
Loss of repeat business.
Purchase correct SBB Exterminatior Quantity based on your home size and infestation severity.
To maximize the Bed Bug Infestation Treatment Efficiency, combine application of SayByeBugs Exterminator with:

SayByeBugs Laundry Detergent to treat all your linens, and clothes;
Block Bed Bugs from climbing on your Bed by installing Bed Bug Traps;
Block Bed Bugs from hiding in your mattress or your bedframes by using SBB Bedding Encasements.
For active bed bug outbreaks, thoroughly spray SayByeBugs Exterminator twice daily in all potentially infested areas. Although adult bed bugs may not be present, their microscopic nymphs may be. SayByeBugs eradicates adult bed bugs and their nymphs alike. Potentially infested areas include pillows, mattresses, box springs, bed frames, headboards, bed rails, closets, carpeting, furniture, purses, briefcases, luggage, and all cracks and crevices where a bed bug may hide. If the infestation persists, continue to use SayByeBugs liberally to ensure that all bed bugs and their nymphs have been contacted. Always be aware that dormant bed bugs can live up to one year if left untreated.
Always remain aware of the fact that bed bugs are notorious for "hitchhiking" from location to location. To prevent the spread of bed bug infestation, spray SayByeBugs Exterminator on all possessions that may allow their transport from one location to another. Spray liberally on luggage, coats, purses, handbags, briefcases, laundry, or any other means of transportation for a bed bug from one location to the next. Routine use of SayByeBugs Exterminator will minimize bed bugs' ability to spread.
Sodium Lauryl Sulfate 5%, Sodium Chloride 1%, Citric Acid 0.7%, Potassium Sorbate 1%. Inert Ingredients: Urea 0.7%, Sodium Benzoate 0.1%, Water. Ingredients total 100%.

Got questions?
We're in touch! Ask your question in a convenient way: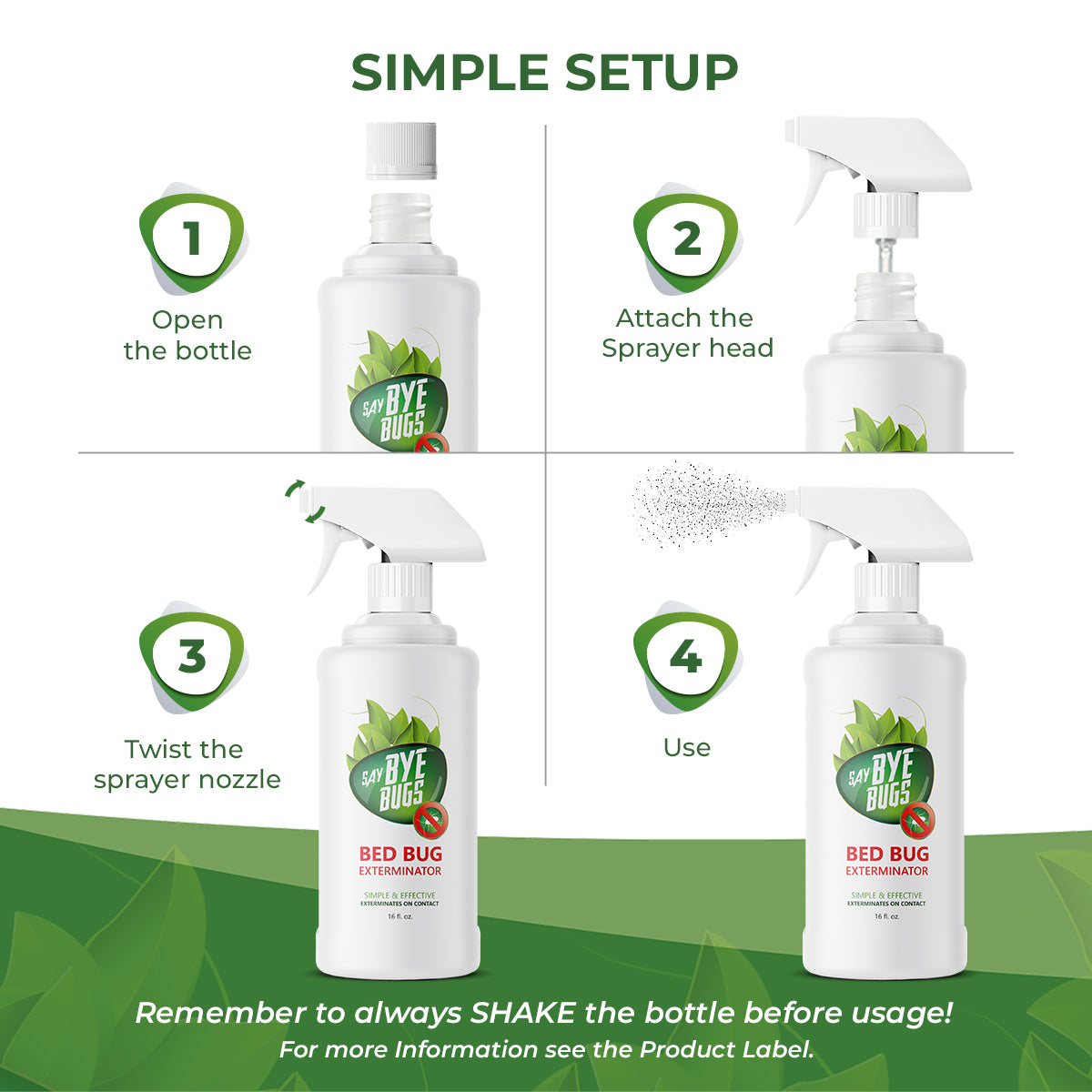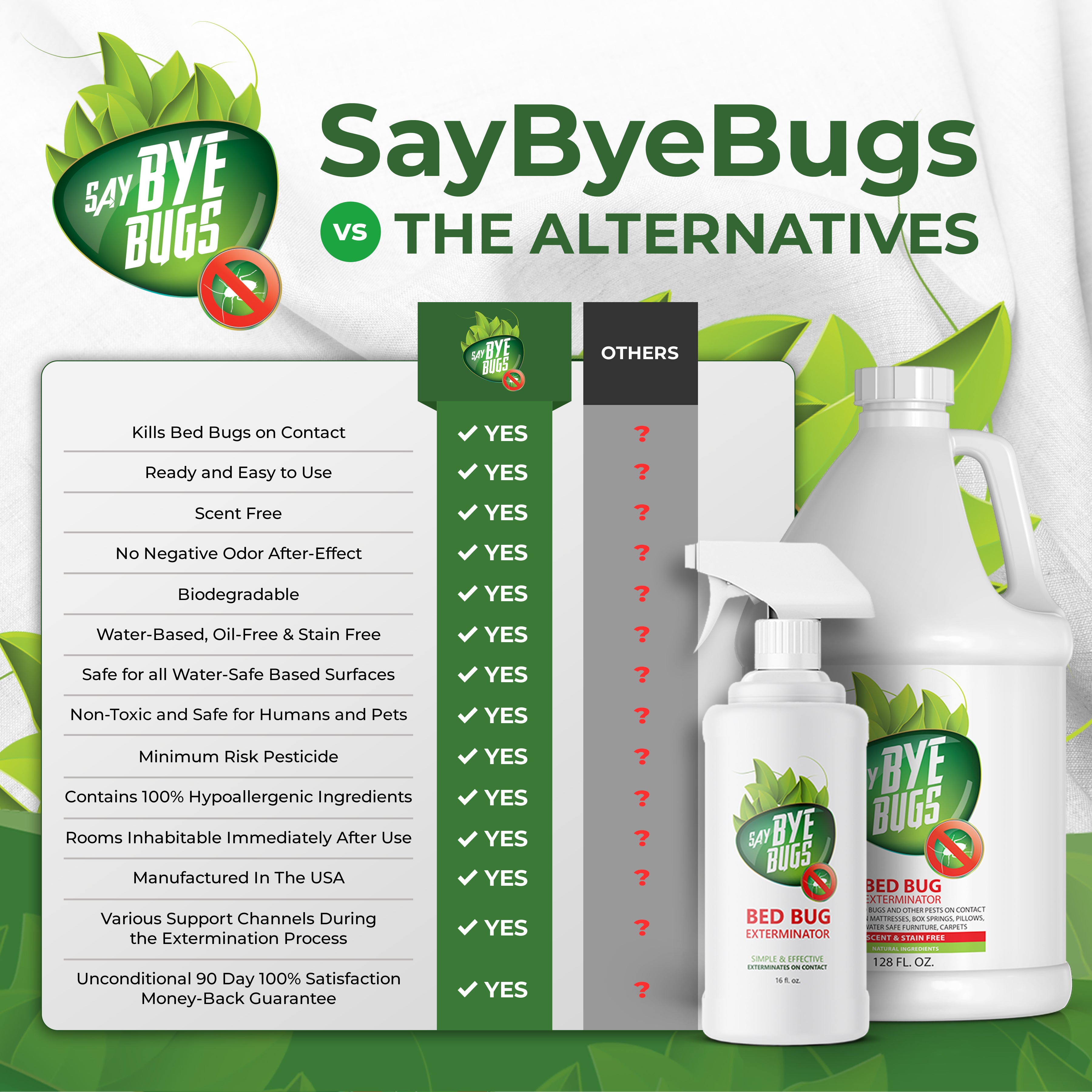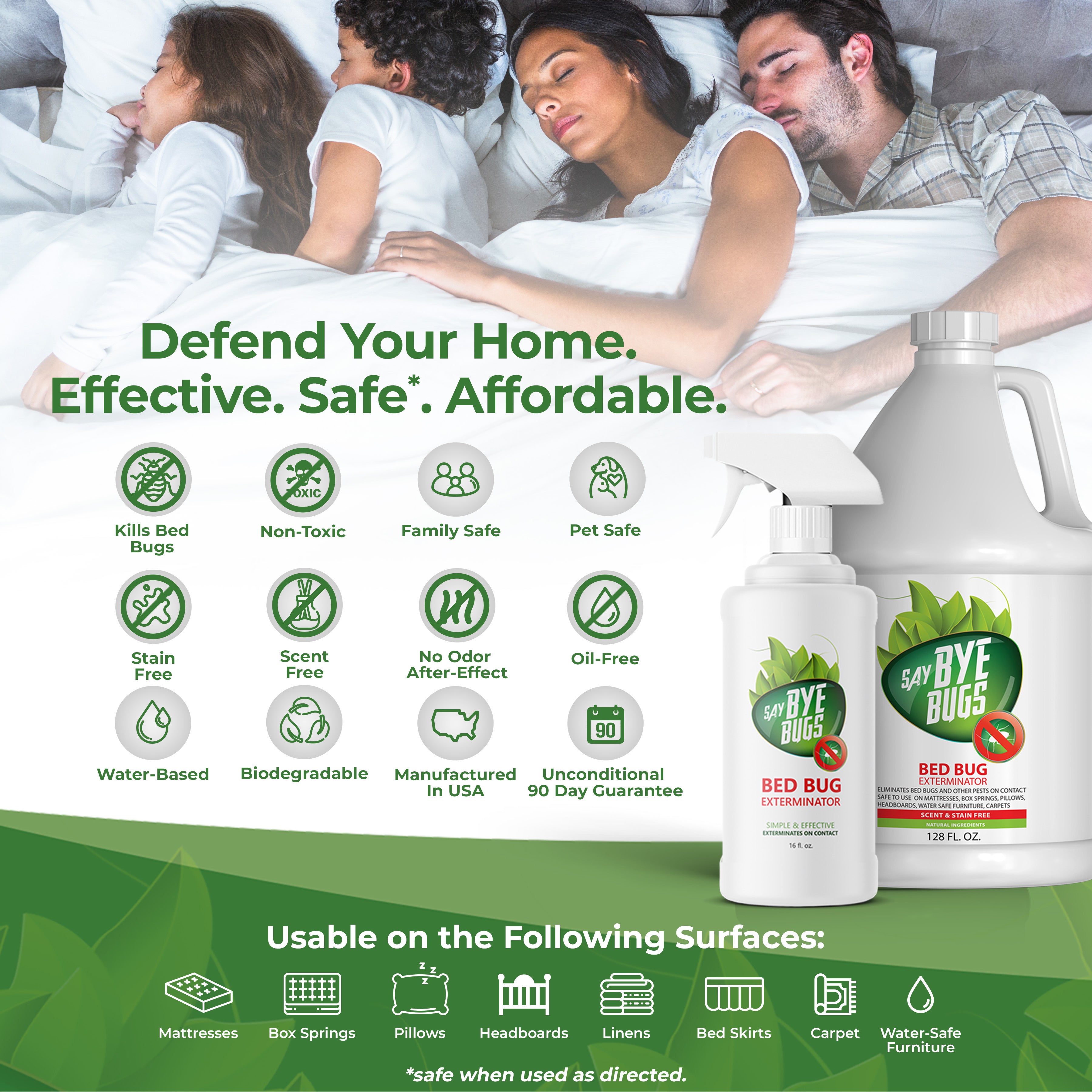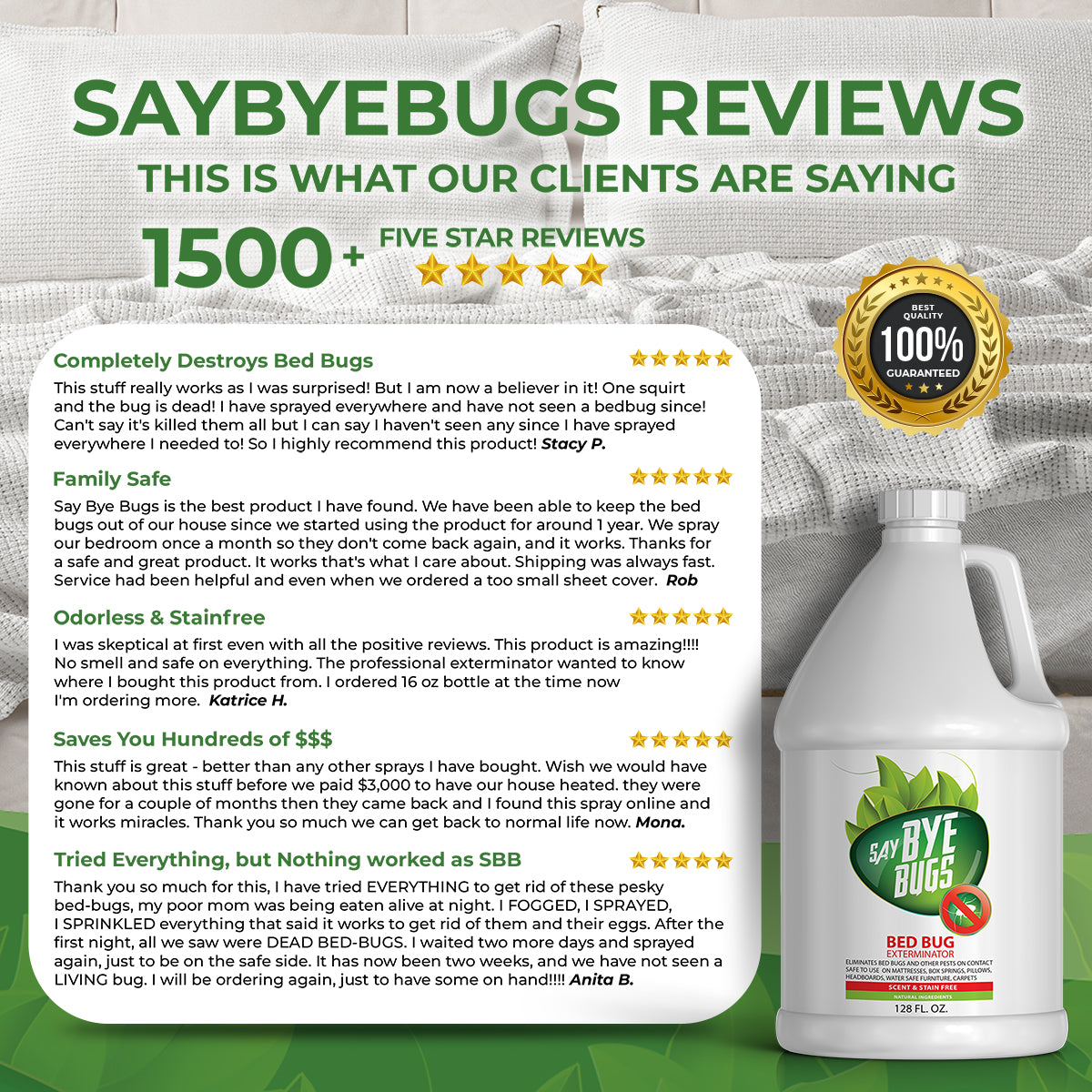 Other products for Bed Bug Treatment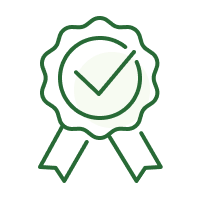 Money Back Guarantee
We Guarantee Your Complete Satisfaction or You Get your Money Back for up to 90 days since the date of your purchase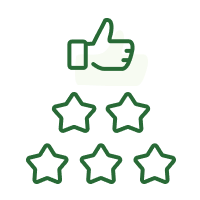 Trusted US Shop
Get Everything Needed for Complete Bed Bug Treatment on one Place Entrusted Supplier of More than 300.000 Homeowners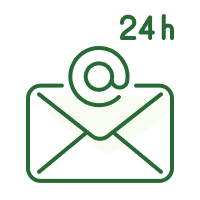 Contact US
Have a question?
Call our customer support toll-free: +1 (855) 290-8300
Open Every Day 5:00 AM to 5:00 PM CST or
Email Us at support@saybyebugs.com